First and Foremost…
If you run marketing for an app, you might have used Meta ads or Google ads as your primary way of acquiring new customers and app users. These are channels that are well-established and work great for most companies. However, most companies have missed the lowest-hanging fruit when it comes to app marketing, the audience most often closest to converting; the app store users themselves. Apple Search Ads (ASA) give you the possibility to reach users in a cost-efficient way, combining a highly interested audience with powerful targeting.
In this post, I will give you a brief overview of, and introduction to, advertising through Apple Search Ads.
The Basics…
Apple's app store is the world's largest platform for downloading and buying apps for iOS. On top of that, studies from Google show that iOS users are 2x as valuable as Android users. Since iOS is so popular, it can be very hard to compete only through organic reach, and that's why ASA was introduced. ASA lets you buy ads directly in the app store in a variety of different placements. If you are marketing an app and not advertising with ASA, there is a strong possibility you are missing out.
The overall objective of Apple Search Ads is to generate new installs to help you grow your app business. You can target your audience through keywords or automated functions like the search match function that help you find relevant users.
You might be wondering what your ads will look like. By default, your ads will look like your regular app store view, but you can also make a custom product page. With this, you can test new images, texts, and other creatives to make your app store view convert as much as possible.
When you are setting up your campaign, you will get to choose which parts of the platform you want to serve your ads on, i.e. where your ads will be seen. Currently, ASA allows 2 different ad placements, search results and search tab, with several additional placements coming in the near future.
Search Results.
This is the placement with the highest potential and also the most used placement. It is pretty much exactly what it sounds like; an ad placed in the app store's search results. Thus, when a user searches for something, you are eligible to serve them an ad. The ad will be shown at the top of the search results and will look exactly like your normal app store listing, with the exception of it being marked as an ad, of course. The searches that you want your ad to serve are chosen through keywords. The overall setup is very similar to how google was structured a few years ago, with a lot of keywords and negative keywords as your primary way of targeting users.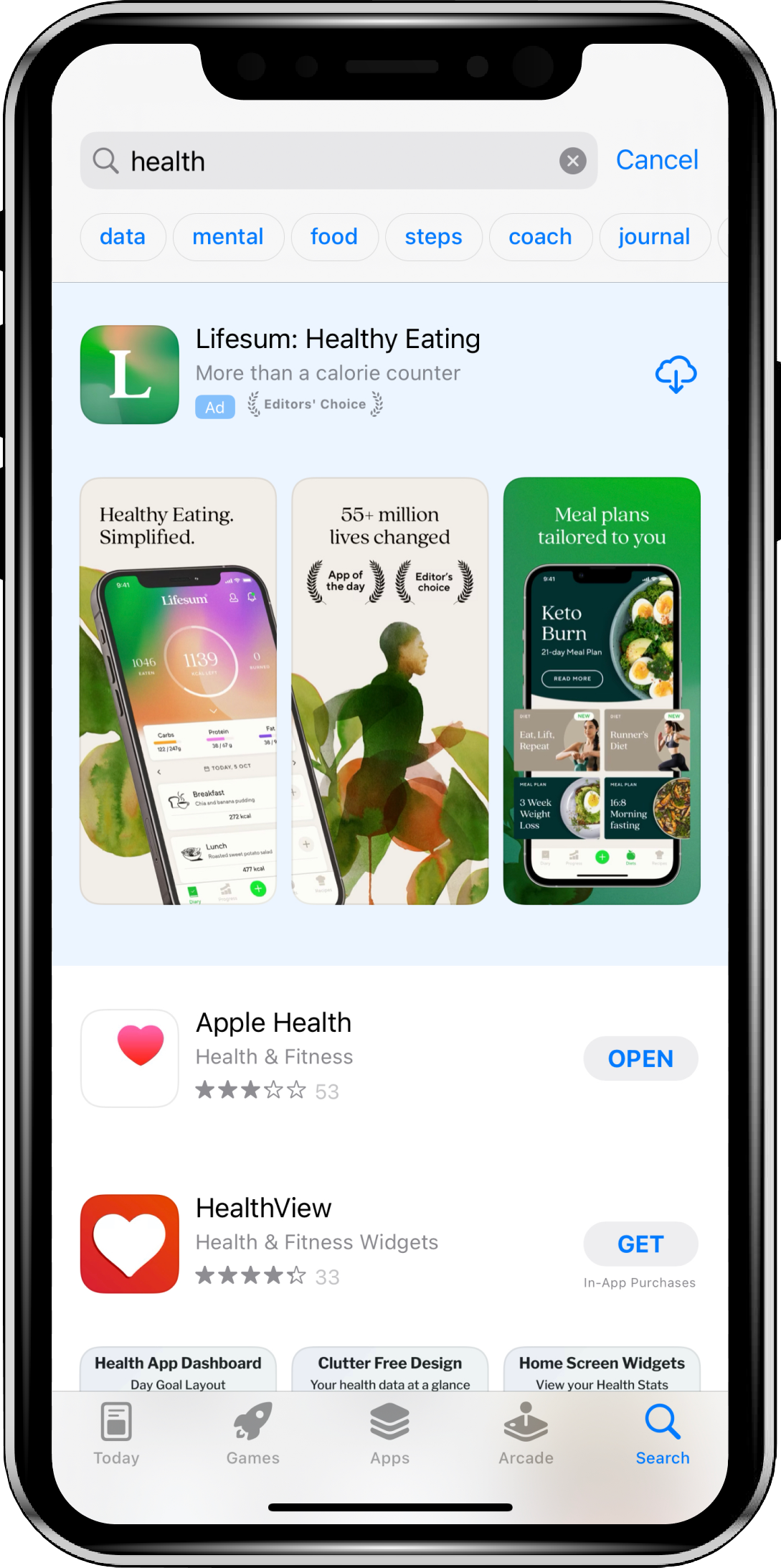 Search Tab.
This placement serves an ad before the users actually search for something. This is slightly different from the search result placement since it is a higher-funnel activity. The purpose of this placement has to do more with catching the users' attention and bringing awareness to the app. Thus, this placement is recommended when you have an app attractive to a wider audience.
Apple will also release two new ad placements in October (2022): Today's Tab, which serves an ad on the front page of the app store, and Product Pages which serves relevant ads when browsing different apps that are relevant to yours. We will cover these two placements in more detail in an upcoming post.
Why You Should Use It…
The only way to serve ads in the App Store is to use ASA, and there are several reasons why you should try it:
High conversion rates.
From our experience, ASA has really high conversion rates. It is not unusual to see conversion rates of anywhere between 30-50% which makes it extremely cost-efficient and often generates a lot of installs.
Low competition.
The platform is still not as competitive as for example Google and Meta, resulting in lower cost per install (CPI), and more clicks (or taps, as Apple refers to it) at a lower cost than other platforms. It will most likely not be like this forever, but since users are always close to converting when they reach this platform, it will stay relevant for a long time.
Lowest possible funnel activity.
It is difficult to find a platform within the app-marketing universe, closer to user conversion than ASA. Apple claims that over 65% of downloads happen after App Store searches, which means that the potential of this platform is extremely high.
No separate creatives.
Since your ad is based on your regular app store view, you don't have to spend a lot of time testing different creatives. However, there are functionalities like custom product pages that make A/B testing possible and can give you a competitive edge.
Seamless tracking.
In a time where tracking is difficult on most platforms, ASA stands out on the contrary. On other platforms, your ad is seen in one location (e.g. Google or Meta) and the conversion takes place in a separate location (e.g. your web or e-commerce). For ASA on the other hand, the ad and the conversion take place on the same platform, which means that you do not need an extra setup of tech, scripts, or tags to get started and measure your installs.
Getting the Structure Right…
Getting started with Apple Search Ads is not very hard, but it can be tricky to get the structure right, and the difference between an optimized account and an unoptimized account can be quite high. We have experienced results where the CPI has decreased by 80% when we have optimized the structure of the account.
The most common structure is based on the search result campaigns since that is most often the highest performing campaigns. The basic setup is as follows:
Brand campaign.
The brand campaign is targeting keywords related to your app name or company name. The keywords in this campaign should use "exact match" in order to minimize the keywords triggered by mistake on broader searches.
Category campaign.
The category campaign focuses on non-brand keywords that are relevant to the product and services that you offer. This campaign helps you reach a wider audience and will drive a large volume if the setup is correct. The keywords in this campaign should also be "exact matched".
Competitor campaign.
The competitor campaign is where you add all your competitors' brand names as keywords and bid on them. Thus, this campaign type can be controversial and is, by all means, not a must. However, it can be a good way to generate a large number of cheap installs. Especially if you have a new app and want to take market shares from your rivals.
Discovery campaign.
The discovery campaign is usually used as a tool for mining new keywords, and most often combines two different ad groups. The first one is a standard ad group with the same keywords as in the category campaign, but uses "broad match" on the keyword. In the category campaign, keywords are used as negative in "exact match" so you do not compete with your own keywords. The second ad group differs slightly as it uses a function called "search match". "Search match" will feel familiar to you if you have worked with Dynamic Search Ads (DSA's) in Google Ads, as similarly, it is a setting that uses the data from your app and app store listing to choose which searches to show your ads for. Remember to exclude all the "exact matched" keywords here as well.
If you want to make it really simple or just do not have the resources, you can create one campaign and make the same setup as above but on the ad group level. This can be beneficial if you want to explore new markets.
A Great Opportunity…
Apple Search Ads are a great opportunity for any app business. The overall functionality of ASA is more significant than explained above, but since this is merely an introduction, I will leave the rest for another post.
If you can not wait to learn more about the possibilities, do not hesitate to contact me at [email protected], or on LinkedIn.